Leading rotary table manufacturer, with high precision and good stability, high rigidity and durability , One of the best-selling brands in China.
Rotary table is one of the most important components of CNC. Multi axis machining can be realized by one-time clamping, which can improve the production efficiency and the accuracy of parts, as well as shorten the cycle times.  silver CNC rotary table can match with different brands of control systems, such as Fanuc, Mitsubishi, Siemens . widely used in automotive, aerospace, mold, parts machining and other industries. The rotary table almost the same quality but half price than some Japanese brands. We confirm that you will benefit if you use our rotary table. welcome to inquire and quote. 
CNC rotary table for CNC machining centers
Our indexing rotary table including 4 axis , 5 axis tilting , horizontal table for differents spec of machine tools, such as high speed vertical machining centers , drilling and tapping machines, HMC and so on .
Roller CAM 4 Axis Rotary Table For Muti Axis Machining
Read More »
CNC 5 Axis Tilting Rotary Table China Manufacturer For Multi-Axis Machining
Read More »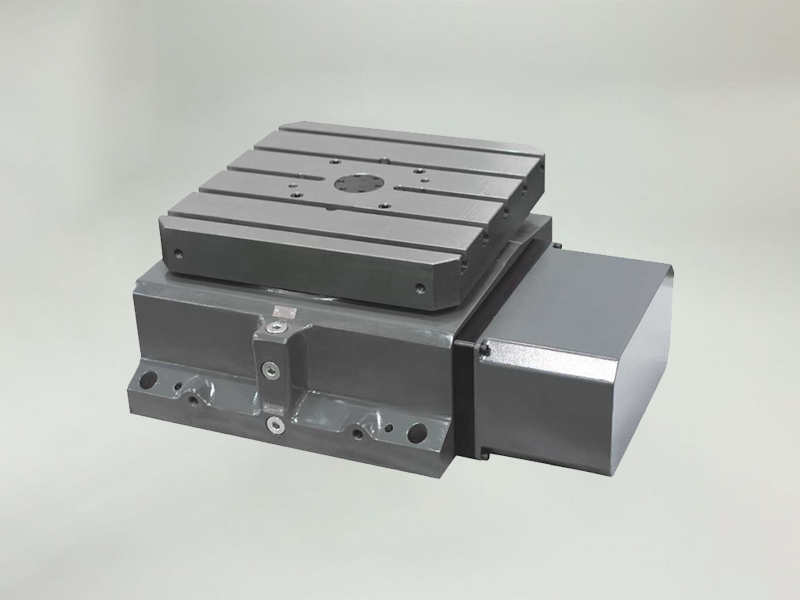 High Strength Roller Cam Driver Rotary Table For Horizaontal Machining Center
Read More »
Roller driver zero backlash technology
Roller CAM Driver which uses the roller gear mechanism,The unit is constructed from an input shaft(the roller gearcam) and a turret(output shaft)fited with roller folowers. The roller followers are preloaded against a screw-like input shaft to completely eliminate backlash. Our proprietary adjustment mechanism provides optimum preload. The roller folowers planted in the turrt which use internal roler bearings to transfer torque while rotating.
Video about the roller cam indexing table basic
Why choose Silvercnc, what's your benefit
■  Firstly, we adapt roller CAM driver structure, it always no backlash, high efficiency conduction, no thermal displacement, long working life, which has good brake performance compared with worm gear and DD motor rotary table
■ Secondly , its quality is stability, almost no need maintenance
■ Thirdly, Price is reasonable, almost half of the price of American Haas for the same specification
■ And then, the rotary table use YRT bearing to ensure rigidity, and innovative structural design, material, machining process to ensure long  working life
■ At last, with one year warranty, regular spare parts,  customers no after-sales trouble
What mechanism is used in rotary table
Rotary table in market mainly includes 4 kinds of mechanism that is worm gear, roller cam, DD driver and harmonic structure. The following is the introduction:
1. worm gear: it's one of  the most popular structrue in NC rotary table  because of its irreversibility and costs.The worm is generally made of bronze, but the wear resistance is poor. In order to improve the service life, some manufacturers use the alloy steel.
2.roller cam: This is the most popular deceleration mode in the Chinese market. Compared with worm gear, it has many advantages, such as wear resistance, high transmission efficiency , good price and basically no maintenance. Chinese consumers like it very much.
3.DD motor: it's the most efficient rotary table with the highest precision. It has the highest precision because it has no mechanical structure, which is directly driven by motor , no reducer. It has high technical difficulty and high price. It is generally used for five axis machine tools.
4. Harmonic driver: Harmonic reducer is a new transmission structure in gear reducer. It uses flexible gear to produce controllable elastic deformation and cause relative staggered teeth between rigid wheel and flexible wheel to transmit power and motion. This kind of transmission is essentially different from the general gear transmission, and has particularity in meshing theory, set calculation and structural design. 
Roller CAM driver VS worm gear
| | | |
| --- | --- | --- |
| | | |
| | | |
| | | |
| | | |
| Hardness of the contact part | | |
| | | |
| | | |
| | | |
| | | |
| | | |
| | | |
| | | |
| | | |
| | | |
| | | |
| | | |
| | Low(replace needle roller bearings) | High (Replace the worm gear |
| | | High(Adusted once a year) |
Rotary table application photoes
Rotary table application video